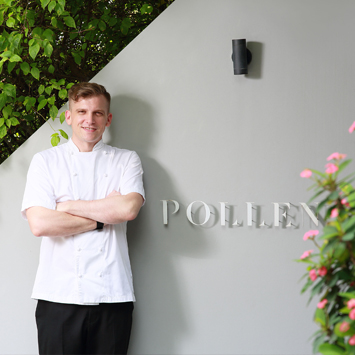 Pollen
$9,500.00
A private 6-course dinner with chef steve allen for eight paired with exquisite wine and champagne



Champagne: Dom Perignon


White wine: M. Chapoutier Ermitage Le Méal


Red wine: Alter Ego de Palmer & Dominus


Armed with a wealth of experience, Steve Allen has come into his own as POLLEN's executive chef. Produce-driven dishes, moulded by classical techniques with modern tweaks; these have become hallmarks of the Englishman's career, ever since he was a young chef of 16, and hardened by stints at institutions like Gordon Ramsay at Claridge's, where he honed his craft for over a decade.
His unique brand of modern French cuisine with Mediterranean influences have elevated POLLEN's dining offerings over the past three years. But now, his focus has shifted onto passing on that elusive knowledge, while receiving creative input from the rest of the team, with newly created dishes a collective effort based on the inspiration of young talent.
POLLEN is an elegant French-Mediterranean restaurant nestled over two levels at Gardens by the Bay's Flower Dome. At the main dining hall on the first level, guests can indulge in a range of exquisite multi-course menus featuring mostly elevated French cuisine, while the second level is a buzzing Mediterranean café space that boasts sublime views of the Marina Bay district.